About Us
.Since the beginning, our goal has been to hire the best talent. We're proud of our team.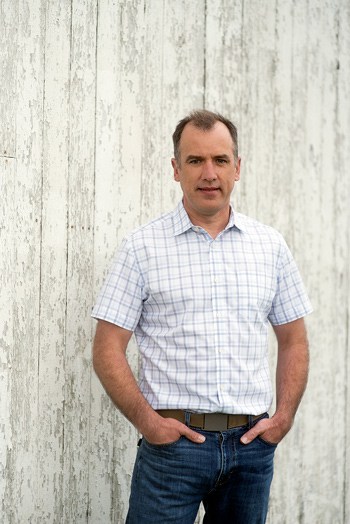 JOHN M. GEMMI
OWNER / PRESIDENT
Certified Remodeler, Certified Kitchen & Bath Remodeler
As president and founder of Gemmi Construction, Inc., John has always known he was destined to build. After graduating from Arch Bishop Wood High School and the carpentry program at Middle Bucks Institute of Technology (MBIT), he worked for 10 years for a prominent local builder before launching Gemmi Construction, Inc in 1997.
Valuing the education he received from MBIT and the opportunity given to him by a local builder, John has paid that philosophy forward by often hiring carpenters directly out of MBIT. John's easy going manner and natural talent for elegant design have proven to be the ideal recipe to propel Gemmi Construction to the forefront of the industry, winning many awards in the process.
As a longtime member of National Association of the Remodeling Industry (NARI) both at the local and national levels, John has served as chair of the education committee and is a past president of the local chapter as well as a former national chair of the Contractor's Council. He has been honored with the Billingham Education Award, the Spirit of NARI award, the Professionalism Award, the Community Service Award, President's Award, and the very prestigious NARI Lifetime Achievement Award. John holds two NARI certifications including certified remodeler and certified kitchen and bath remodeler and he currently serves on the Advisory Committee of MBIT.
In his spare time John enjoys working on his 1967 Camaro, geocaching, catching the occasional car show, and spending quality time with his wife Lizie, their kids, cats, and the chickens who reside in a chicken coop built by John.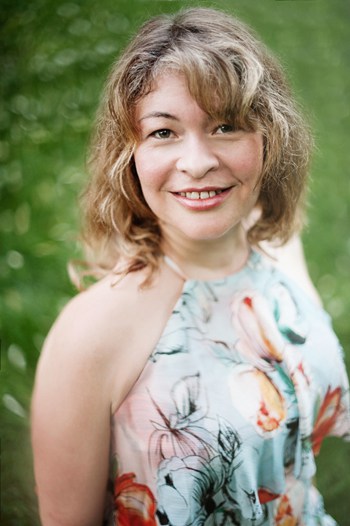 ELIZABETH DODSON GEMMI
VICE PRESIDENT / OFFICE MANAGER
Lizie's unwavering dedication to Gemmi Construction began in 1997 when she first met John and they developed a partnership, both in life and career. Lizie earned a Bachelor of Science degree from Delaware Valley University after graduating from Linden Hall School for Girls in Litiz, PA. While working as a Virologist at St. Christopher's Hospital in Philadelphia, she began helping John with the business in her spare time. It quickly became clear that they were a great team and Lizie's strong commitment to the success of Gemmi Construction made for an easy decision to transition to a career in the family business.
When time permits, Lizie loves getting into her garden, as well as knitting, cooking, and exploring the world with her family. Lifelong residents of Buckingham, PA, the Gemmis live in the home Lizie grew up in, with their kids, dogs, cats, and a whole bunch of chickens.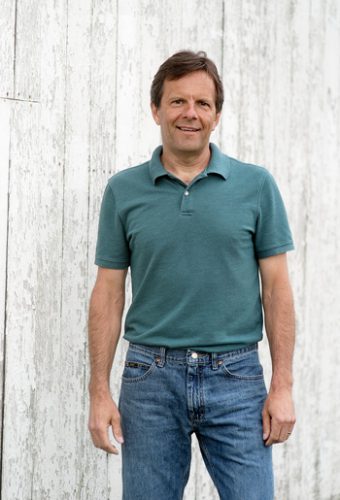 BRENT SCHULER
CONSTRUCTION MANAGER / ESTIMATOR
Joining the Gemmi family in 2014, Brent brings years of experience to the company. After working his way through college, he earned a marketing degree from Temple University and went on to a 30+ year career in the building industry. Working in tandem with John Gemmi, Brent oversees and manages all projects, listening to the client's needs, and working with vendors, contractors, and design professionals to prepare cohesive estimates. From there, he expertly coordinates a plan of action on each job site with the full Gemmi team.
Away from work, Brent plays volleyball in a league and coaches his son's volleyball and baseball teams. He is also an avid runner, and especially enjoys running with his daughter who is on the track team. Growing up in Bucks County, Brent lives in Perkasie with his wife, son, daughter, and their Samoyed dog. After training their last dog, (a Keeshond) to be a therapy dog at Children's Hospital, retirement communities and nursing homes, Shuey (short for Snowshoe) has taken a bit of a different course; he loves to "play" hockey with the kids, and was the inspiration for Brent's son to take up the sport.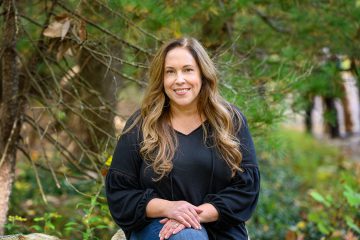 CHER ALDERFER
BOOKKEEPER / OFFICE ADMINISTRATOR
Cher has a myriad of responsibilities on any given day as bookkeeper and office administrator. She handles the daily bookkeeping, helps facilitate preparing permits, assists with incoming sales calls, interfaces with clients, creates purchase orders, works with subcontractors, and more. With over 20 years of experience, Cher is proficient and professional, bringing a pleasant demeanor and positive approach to the office, whether speaking with a client, or balancing a ledger. Prior to joining the Gemmi team, Cher worked for an accounting firm and a visual merchandising firm. In her time at Gemmi, Cher has seen firsthand the value of a well-oiled machine and how much that matters in running a successful building company. "We have a lot of standard operating procedures in place to ensure the projects run smoothly from start to finish and I've enjoyed being part of the process. It's amazing how many moving parts and pieces there are in this industry; it's great to see what goes on behind the scenes and be able to help facilitate projects moving forward." Outside of work, Cher enjoys spending time with family, watching (and quoting) movies, gardening, and taking on organizing projects. She loves animals, especially her two cats Max and Misha. Cher grew up in the area and lives in Bucks County with her husband, two kids, and of course, the two cats.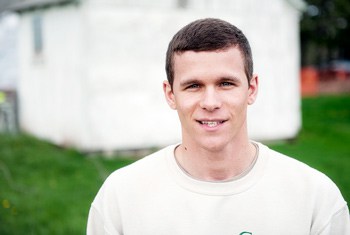 DAN HARTMAN
PROJECT LEADER / LEAD CARPENTER
Dan knew from an early age that he wanted to pursue construction. When his stepdad was putting an addition on their house, Dan followed him around, getting the knack for it and learning along the way. While in high school, Dan excelled in the MBIT carpentry, receiving an award for his skills. He began working at Gemmi Construction through the cooperative learning program and came on board full time after graduating from William Tennent High School in 2010? He worked his way up from an apprentice and carpenter to now being a NARI certified lead carpenter. Growing up and living in Southampton, PA, in his spare time, Dan enjoys the outdoors, camping, and spending time with friends and family.
ROSS CONSALVO
CARPENTER
Ross graduated from William Tennent High School and was at the top of his class in the carpentry program at Middle Bucks Institute of Technology. He joined Gemmi Construction through a co-op learning opportunity while at MBIT. With Gemmi since 2010, Ross's easy-going nature and great sense of humor make him a pleasure to have on the job site. Ross lives in Huntingdon Valley and loves all things outdoors, including racing dirt bikes, camping, hunting, and fishing.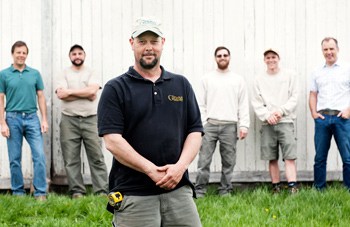 DAMIAN FALLON
PROJECT LEADER / LEAD CARPENTER
Before finding his true calling as a carpenter, Damian graduated from Council Rock High School in 1992. He explored several varying occupations, including stints as a freight train conductor and auto mechanic. In our most complex work, Damian has earned a reputation for always keeping the trains running smoothly. With Gemmi since 2003, his ability to lead teams in completing projects on time, on budget, and to the highest quality is invaluable to clients and to the company at large. Outside of work, Damian loves fishing, hiking, and wildlife and underwater photography. Having grown up in Holland, PA, Damian now lives in Furlong with his wife, five kids, a dog and a cat.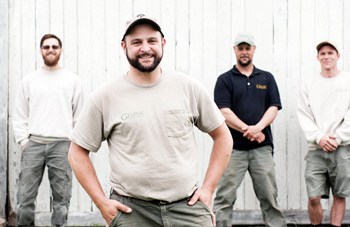 MATT DONOHUE
PROJECT LEADER / LEAD CARPENTER
From a young age, Matt has enjoyed working with his hands. With us since 2003, Matt's strong background in finish carpentry and furniture making has served his team well on many of our award-winning projects. Matt is a graduate of Pennsbury High School and has attended Penn State University. Matt grew up in Levittown, PA and lives in Buckingham, PA with his wife, two sons, and their dog Mayci. In his spare time, Matt enjoys playing racquetball with his dad, and spending time with family at the beach, amusement parks, or the occasional Phillies game.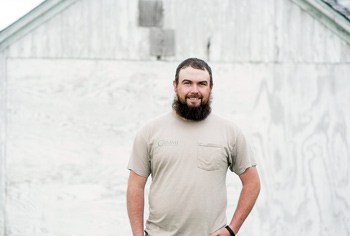 JAMIE ISETT
CARPENTER
Growing up, Jamie always seemed to have a hammer in his hand. He enjoyed helping his uncle build birdhouses as a little kid and did construction side jobs over summers as early as junior high school. He knew from then on that he wanted to work in construction and attended Eastern Vo-Tech in Upper Moreland and graduated from Hatboro-Horsham High School. Working at Gemmi Construction since 2014, he appreciates the opportunities to gain new carpentry skills, working alongside those on the team that have been there longer. Away from work, Jamie plays floor hockey, builds and collects model trains, and loves being in the outdoors, camping, hunting, fishing, and pursuing photography of trains and wildlife, Jamie lives in his hometown of Horsham with Chase, his German Shepherd-Rottweiler-Terrier mix.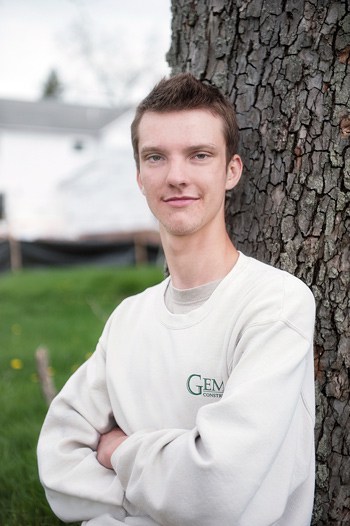 JUSTIN ESSIG
CARPENTER
John Gemmi takes great pride in paying it forward, and has continually sought carpentry talent from the co-op program at the local tech school, MBIT (Middle Bucks Institute of Technology). One of those students to come on board is Justin Essig, who began in late 2015. Justin asks a lot of questions and takes the initiative to seek solutions to challenges, while learning extended aspects of the job such as cleaning up at the end of the day, gaining people skills, and interfacing with clients. What he likes most about Gemmi Construction is the quality of work, the finished product, and the nice people. Born and raised in Philadelphia, Justin lives in Warminster with his family, including two siblings, three dogs and two parakeets. In his time away from school and work, Justin plays soccer and video games, and has spent time volunteering with his grandparents building sets for the Delaware Valley Opera Company.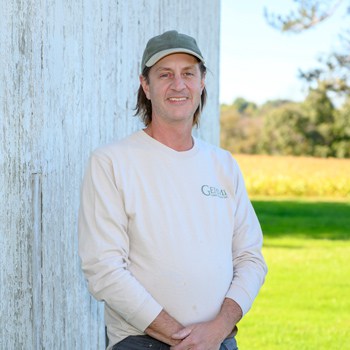 KEVIN POLING
CARPENTER
Kevin is a passionate woodworker with many years of experience, including as a custom cabinetmaker. A graduate of North Penn High School, he also completed a four-year apprenticeship program with ABC (Associated Builders and Contractors). Kevin has high regard for the people he works with and is at his best when faced with a challenge, always keeping the results and homeowners expectations in mind. Outside of work, Kevin enjoys spending time with one or all of his five godchildren and their families as well as fishing, hiking, and visiting family in West Virginia.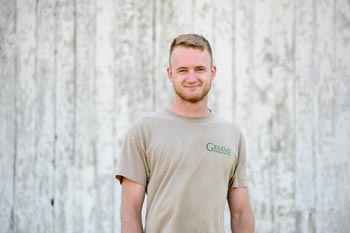 SHANE RIGGS
CARPENTER
Shane grew up in Sellersville, PA and as a kid was always outside, adventuring in the woods, building tree forts and ramps. A graduate of Pennridge High School, Shane went on to Bucks County Community College where he studied construction management. This earned him a number of specialized certificates including Construction Estimating, Estimating and Bidding, Essential Construction Math, Construction Blueprint Reading, Contract Documents and Construction Law, Planning and Scheduling, and Construction Project Management. Joining Gemmi Construction in January 2019, Shane likes the high level of precision that takes place on job sites and how important that is to the team. He likes doing trim work and was a site foreman and carpenter at Kostyk Builders for five years before joining Gemmi Construction. Shane has been known to take on some weekend work doing construction jobs and electric work. On his off time, Shane likes dirt biking, 4-wheeling, riding his Harley, an occasional golf game, fishing, and spending time down the shore with his golden retriever named Lily.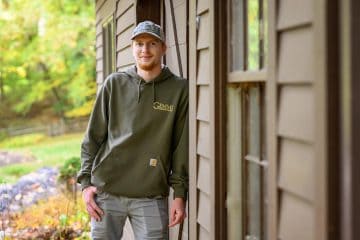 DILLON HUNTER
CARPENTER
Born and raised in Southampton, PA, Dillon joined Gemmi Construction full time in 2021 after being in the co-op program at MBIT (Middle Bucks Institute of Technology). Dillon's trajectory into carpentry started at a young age going to woodworking workshops with his dad and these days they restore antique tractors together. Dillon first climbed onto a tractor at age 3 and years later he started buying tractors, fixing them up and selling them. That's how he bought his 1987 mustang which he still has to this day. At Gemmi, Dillon likes working with the team, the variety of the jobs, and how well planned out everything is, plus how neat and organized all the jobs are. He especially likes seeing the before and after on projects and the satisfaction of seeing where it started, and where it goes after putting all the hard work in. Outside of work, Dillon enjoys landscaping, restoring tractors with his dad, and going up to the mountains.